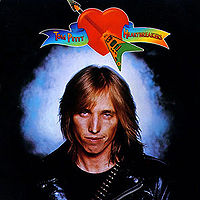 "American Girl" is a song by Tom Petty and the Heartbreakers, not to be confused with American Woman. American Girl is from Tom Petty and The Heartbreakers' first album and was released in 1976. It's playable on Guitar Hero 5.
Walkthrough
Edit
American Girl is more or less a complex song on expert. The opening chords and sustains can be off putting, but if you have a good beat with the music, it shouldn't be a problem to master. The insane part is the Amercan Solo. It's basically the same notes over and over again, but they're hard to ace, so perfecting this song can be a trial when trying to complete the note streak challenge. So pay attention to the note chart and try to hit every note until you get to the American Solo. To master the solo, the easy way to do it is pulling-off four notes with an every single finger note pressing as descending tap triplets come. Pressing other fret buttons during tapping sections won't count against you.
Bass is simple for this song on any difficulty. If you're at an advance level, perfecting this song shouldn't be a problem.
Singing can be exhausting, considering that you have to sing the "ah" part at the end about 20 times. As long as you have the right pitch for the song, the chances are you'll do well. There will also be backup vocals at times, so make sure to sing the lead singer's parts one key, and not the backup singers, because they're slightly different.
Guitar Hero 5
"2 Minutes to Midnight" "20th Century Boy" "21st Century Schizoid Man" "A-Punk" "All Along the Watchtower" "All the Pretty Faces" "American Girl" "Back Round" "Bleed American" "Blue Day" "Blue Orchid" "Brianstorm" "Bring the Noise 20XX" "Bullet with Butterfly Wings" "Cigarettes, Wedding Bands" "Comedown" "Dancing with Myself" "Deadbolt" "Demon(s)" "Disconnected" "Done with Everything, Die for Nothing" "Do You Feel Like We Do?" (Live) "Du Hast" "Ex-Girlfriend" "Fame" "Feel Good Inc." "Gamma Ray" "Gratitude" "Hungry Like the Wolf" "Hurts So Good" "In My Place" "Incinerate" "In the Meantime" "Jailbreak" "Judith" "Kryptonite" "L.A." "Lithium" (Live) "Lonely Is the Night" "Looks That Kill" "Lust for Life" (Live) "Maiden, Mother & Crone" "Make It wit Chu" "Medicate" "Mirror People" "Nearly Lost You" "Never Miss a Beat" "No One to Depend On" (Live) "One Big Holiday" "Only Happy When It Rains" "Play That Funky Music" "Plug In Baby" "Ring of Fire" "The Rock Show" "Runnin' Down a Dream" "Saturday Night's Alright for Fighting" "Scatterbrain" (Live) "Send a Little Love Token" "Seven" "Sex on Fire" "Shout It Out Loud" "Six Days a Week" "Smells Like Teen Spirit" "Sneak Out" "So Lonely" "Song 2" "Sowing Season (Yeah)" "The Spirit of Radio" (Live) "Steady, As She Goes" "Streamline Woman" "Sultans of Swing" "Superstition" "Sweating Bullets" "Sympathy for the Devil" "They Say" "Under Pressure" "Wannabe in L.A." "We're an American Band" "What I Got" "Why Bother?" "Wolf Like Me" "Woman From Tokyo" ('99 Remix) "You and Me" "You Give Love a Bad Name"
"Younk Funk"
Community content is available under
CC-BY-SA
unless otherwise noted.