Austin Tejas is a playable character in Guitar Hero: Warriors of Rock. His setlist is comprised of classic rock songs, much in the vein of predecessors Clive Winston and Xavier Stone. His warrior mode turns him into a headless horseman (much like the Headless Horseman from the Sleepy Hollow tale) with the power, Star Power Amplifier.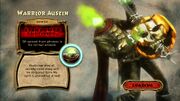 His name is a pun on "Austin, Texas", using the Spanish pronounciation of the state's name.
Austin - inexhaustible outlaw - seeks to toss the dross and come across as awesome. Some may call him ostentatious, 'But no,' says he, 'it is a soft j'. - Human form
Poor Austin's lost his noggin, but profitted a squash in the process. While he was never particularly keen on his kisser, he's really going to miss that hat. - Warrior/Spirit form
He sports dreads, black shades, a brown-leather hat, and piercings. From the top: he wears a dirty-brown-leather long coat, a chain necklace, a bandolier around his torso, and fingerless gloves with buckles around his wrists. Below him: he wears pants that have brown belts, chains, and buckles around it. Not to mention, he also wears cowboy boots.
His transformation is based by the headless horsemen; however, his hands are transparent. He has no head, but he has a spike collar and cloak tied around his 'neck': from there green smoke comes out. He also has chains on his right leg and a jack o' lantern chained around his trousers.
The effect of Austin's transformation transformed his bandmates into "haunted" aristocrats.
Hitting a star power sequence fills the star power gauge by 50% rather than 25%, allowing it to be used instantly.
Hitting a star power sequence now fills by 100% rather than 50%.
Community content is available under
CC-BY-SA
unless otherwise noted.