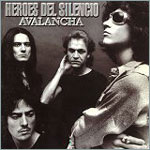 Avalancha was written and recorded by Spanish rock band Héroes del Silencio. The song appears on the album Avalancha released in 1995.
Walkthrough
Edit
The song starts easy, but turns a little difficult at the end.
Appears In
Edit
Guitar Hero: On Tour (European version only)
Song Stats
Edit
| | | | | |
| --- | --- | --- | --- | --- |
| Difficulty | Total Notes | Base Score | 4-Star | 5-Star |
| Easy | 561 | 41,238 | 82,476 | 115,467 |
| Medium | 671 | 56,655 | 113,310 | 158,634 |
| Hard | 881 | 76,182 | 152,364 | 213,310 |
| Expert | 969 | 87,228 | 174,456 | 244,239 |
Star Power Paths
Edit
See Avalancha/Star Power Paths
Lyrics and Translation
Edit
Original lyrics in Spanish
Approximate translation in English
La locura
Nunca tuvo maestro
Para los que vamos a bogar


Sin rumbo perpetuo
En cualquier otra dirección
Con tal de no domar
Los caballos de la exaltación
La rutina hace sombra a las pupilas
Que se cierran a los disfrutes que nos quedan

(coro)
Avalancha
Avalancha
Avalancha
Avalancha

Necesitamos
El valioso tiempo
Que abandonas sin saber
Que cojones hacer con él
Nosotros somos la comida
Y alguién está efectivamente hambriento
No hay retorno a la conciencia
Tras el desvario del amor tempestuoso

(repetir coro)

Aún nos quedan cosas por hacer
Si no das un paso te estancas
Aún nos quedan cosas por decir
Y no hablas

La locura
Nunca tuvo maestro
Para los que vamos a bogar
Sin rumbo perpetuo
La muerte será un adorno que pondré
Al regalo de mi vida
La luna ejerce extraños influjos
Que se contradicen
Y no hay quien descifre

(repetir coro dos veces)

The craziness
Never had a master
For us who are journeying


Aimlessly forever
In any other direction
Just so we won't tame
The horses of excitement
Daily life casts a shadow over our pupils
Which close to the pleasures that suit us

(chorus)
Avalanche
Avalanche
Avalanche
Avalanche

We need
The valuable time
That you leave behind without knowing
What the fuck to do with it
We are the food
And someone's effectively hungry
There's no return to consciousness
After the delirium of a stormy love

(repeat chorus)

We still have some things to do
If you don't take a step, you'll be held still
We still have some things to say
And [still] you don't speak

The craziness
Never had a master
For us who are journeying
Aimlessly forever
Death will be an ornament that I will place
On the gift of my life
The moon exerts strange influences
Which contradict themselves
And there's no one who can decifrate them

(repeat chorus twice)
100% on Expert
Community content is available under
CC-BY-SA
unless otherwise noted.