This is the first venue in the solo career of
Guitar Hero III: Legends of Rock
and the fourth in Co-Op. The address shown is 22 Arcadia Avenue (a play on Iron Maiden's song "22 Acacia Avenue"). According to the storyline, it is where the band gets spotted by a talent scout to play in
Mitch's Moose Lounge
. In the co-op storyline, however, it is where the band plays a reunion concert. In which, they accidentally set the place on fire during the encore and are sent to prison on
Shanker's Island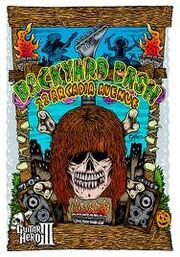 Appearance
Edit
Not surprisingly, the stage is set up in a backyard. The grass is sparsely populated with partiers. On the encore, police cars come and the cops rock out.
Single-Player: 1. Starting Out Small
Edit
Co-Op: 4. Getting the Band Back Together
Edit
Community content is available under
CC-BY-SA
unless otherwise noted.