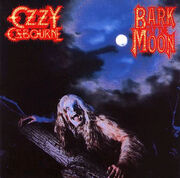 Bark at the Moon
Performed by
Ozzy Osbourne
Year
1983
Appears in
Guitar Hero
Tier
6
★★★★ (Expert)
155,428
★★★★★ (Expert)
233,142
Bark At The Moon is a song by Ozzy Osbourne, off the 1983 album of the same name. It is the final song in Career Mode in the first Guitar Hero, downloadable bonus song for Guitar Hero II on the Xbox 360 and the master track in Guitar Hero: Smash Hits.
Part of the song's difficulty stems from the difficulty of the Hammer on and Pull off mechanics in the first Guitar Hero game which make the solos even more problematic. The first confirmed report of an Full Combo of the song was filed by strikebowler585 on April 23, 2008. The song was again Full Comboed days later by f4phantonm2500, over two years after the release of the game. A handful of people, including iamchris4life, have Full Comboes of the song as Guitar Hero II downloadable content, a rather easier proposition due to the differing mechanics.
Walkthrough
[
]
The biggest problem for some players trying to achieve a 4- or 5-star ranking on this song is a misconception that the opening and the verses are faster than they appear; once you can find the right timing, these parts are among the easiest in the song and are the best spots for racking up some much needed points. The fast strumming sequences in between the chords of the chorus can be tricky to nail. As for the solo, it is best to just alt-strum your heart out here, as it is unlikely that you will have timing good enough to nail it with HOPOs alone. The easiest parts in the solo are the repeating scales, which come toward the end of the solo. If you can nail the verses, the bridge, and those scales, along with some correct use of Star Power, it is entirely possible to achieve 5 stars on this song.
Stats
[
]
| | | | | |
| --- | --- | --- | --- | --- |
| Difficulty | Total Notes | Base Score | 4-Star | 5-Star |
| Easy | 507 | 32,857 | 65,714 | 98,571 |
| Medium | 769 | 49,070 | 98,140 | 147,210 |
| Hard | 1,025 | 64,726 | 129,452 | 194,178 |
| Expert | 1,189 | 77,714 | 155,428 | 233,142 |
Appears In
[
]
Guitar Hero (Tier 6)
Guitar Hero II (DLC)
Video
[
]