Beat It is one of Michael Jackson's most recognizable songs. It can be found on the 1983 album Thriller.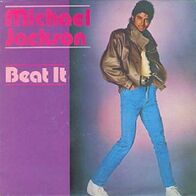 Appears In
[
]
Tiers (career)

Guitar - 12. Will Heilm's Keep (England) (encore)
Bass - 1. Pang Tang Bay (Hong Kong) (encore)
Drums - 1. Wilted Orchid (Sweden) (encore)
Vocals - 17. Times Square (New York City) (encore)
Band - 9. Strutter's Farm (Kentucky)
Creation
[
]
"Beat It" was written by Michael Jackson and produced by Quincy Jones, in December, 1982. Jackson wanted to write the type of rock song that he would go out and buy, but also something that stood out from the music he heard on Top 40 Radio. The result was a throbbing dance single with a fingers flying guitar solo provided by Eddie Van Halen.
Walkthrough
[
]
Generally easy on all instruments. The drum part is repetitive, but simple and the bass part is one of the easiest of any of the songs in Guitar Hero World Tour (there are barely any notes).
The vocals can be easy or not so easy, depending on how well you can sing. Unless you play on Easy or Beginner, the vocals may not be what they seem. This song is the final encore in the Vocal career, rather than Hot For Teacher and B.Y.O.B. Those of which are usually not easy at all. If a score of 123,450 is achieved on this instrument, the player gets the secret achievement called Mike Checka', worth 30G.
The guitar part has two complex, yet short slide solos; broken up with a hammer on part, ending off with an alt-strumming section. The slide solos are easily mastered with quick fingers and practice. The rest of the song is composed of the same riffs.
Video
[
]
Trivia
[
]
Depending on your performance during the song, your vocalist may start dancing to the choreography during the final chorus, as seen in the music video - he/she may also be seen moonwalking during the guitar solo as well.
This is only song to appear as an encore song in all four solo careers.