Because, It's Midnite --
by Limozeen
Tier: 2

---
Easy 4-star: 16,594
Easy 5-star: 23,232

---
Medium 4-star: 25,694
Medium 5-star: 35,972

---
Hard 4-star: 71,580
Hard 5-star: 100,212

---
Expert 4-star: 78,056
Expert 5-star: 109,279
Total notes on Easy: 130
Total notes on Medium: 221
Total notes on Hard: 475
Total notes on Expert: 540
Video link on Hard: http://youtube.com/watch?v=sWv9qlLpYio
Video link on Expert: http://youtube.com/watch?v=pELrjeBCX3g

Because, It's Midnite is a hit single by fictional hair metal band Limozeen, which appears in the online cartoon of Homestar Runner. This is the second song from the cartoon that appears in the Guitar Hero series, the first being Trogdor. It was origanaly going to be a bonus song but was changed because of the elimanation of I Want Candy.
The song is relatively easy to pass using the Star Power on the right part, with the first verses and chorus simple 8th note chord changes. The second verse and chorus are made up of single 8th notes, and both are very easy to play. There is only one part of the song that is challenging to all the players: The solo. It is 13 seconds long, and is the most difficult solo in the game. While only 13 seconds long, it consists of several 32nd note trills and scales. Many people find the solo difficult to pass without Star Power.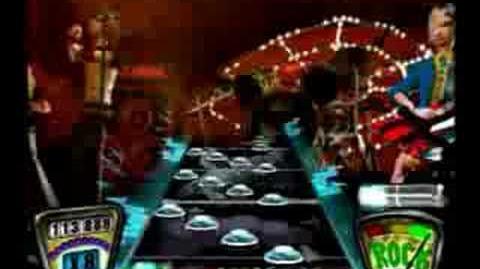 Community content is available under
CC-BY-SA
unless otherwise noted.