For other uses, see Daughtry.
Daughtry (pronounced /ˈdɔːtri/[5]) is a rock band from North Carolina, formed and fronted by former American Idol finalist Chris Daughtry in 2006. Their self-titled debut album was released in 2006. The disc reached number one for two non-consecutive weeks on the Billboard 200, outsold Idol winner Taylor Hicks' debut album, sold more than four million copies and was named the number one selling album of 2007 by Billboard. Their album is also the fastest-selling debut rock album in Soundscan history.[6] The first single from the album, "It's Not Over", was the eighth most played song across all formats on U.S. radio in 2007, and their second single from the album, "Home", was the tenth most played song in the U.S. of 2007.[7] The band's second album, Leave This Town, was released on July 14, 2009. The first single, "No Surprise," was released on May 5. With their debut album they have sold 6.1 million worldwide and sold over 7.52 million in singles.[8]
2006–2008: Self-titled debut album and breakthrough success
Edit
Former American Idol season 5 fourth-place finisher Chris Daughtry stated that he would form a new band after turning down Fuel's offer to make him their lead singer.[9] On July 10, 2006 it was announced that Chris had signed with 19 Entertainment and RCA Records, which holds contracts with fellow American Idol finalists Kelly Clarkson and Kellie Pickler. Chris is a singer-songwriter himself and has collaborated with several other songwriters, such as Live's Ed Kowalczyk, Fuel's Carl Bell, 3 Doors Down's Brad Arnold, Matchbox Twenty's Rob Thomas, SR-71's Mitch Allan,[10] Shinedown's Brent Smith, and Nickelback's Chad Kroeger.
Chris and members of his label held auditions for the band Daughtry and chose 4 members for the band: Jeremy Brady, 21, guitarist (no longer in the band); Josh Steely, 36, lead guitarist; Josh Paul, 29, bassist who also played for Suicidal Tendencies; Joey Barnes, 30, drummer, who was the lead singer of Suicide Darlings. Two of the band members hail from North Carolina — Joey, whom Chris had known for some time, and Jeremy, who was introduced to him a month before the audition. Steely and Paul are both from California.[11] The decision was made to name the band "Daughtry" in order to keep name recognition. In an interview, Chris said, "We could have came out with a really obscure name, but coming from a TV show and having name recognition, it was easier just to go with my last name."
The band's self-titled debut album was produced by Howard Benson and was released by 19 Entertainment and RCA Records on November 21, 2006. Chris himself played a part in the production of the album, particularly in songwriting where he wrote and co-wrote all but two songs on the album — "Feels Like Tonight" and "What About Now". Additionally, he solely wrote "Home," "Breakdown" and "Gone".[10] Other notable songwriters Dr. Luke and Max Martin also contribution to the album and session drummer Josh Freese also played drums on all the tracks for the album. The album charted for 81 weeks on the Billboard Chart before it dropped and returned later on the 95th week into the Top 40. In total, the album has officially stayed in the Billboard Top 200 for 2 Years (104 Weeks).
The album spawned several hits for the group, starting with its first single "It's Not Over", which debuted on the radio on December 6, 2006, after being delayed from a planned September release[10] and reaching #4 on the Billboard Hot 100 and hitting the top 3 in several other charts. Shortly thereafter, Jeremy Brady announced his departure from Daughtry and was replaced with Brian Craddock, 31, from Virginia. In interviews, Chris and Brian have discussed having known each other when Chris was still a member of Absent Element.[12]
After the success of "It's Not Over," the second single from the album, "Home" was released and peaked at #5 on the Billboard Hot 100, after debuting at #83, weeks ahead of its official release to radio. The song was also the official "kick off" song on sixth season of American Idol, played after a contestant was voted off the show, also the case during season 5 of Australian Idol. The Brazilian version of Idol, called Ídolos Brazil, used this song as well in its second season. The album's third single, "What I Want", was released to rock radio on April 23, 2007, featuring musician Slash on lead guitars. The single has peaked at number 6 on the rock charts and is featured as a playable song on Guitar Hero: On Tour for the Nintendo DS. The band's fourth single "Over You" was released July 24, 2007. The band performed this single live on Good Morning America on June 1, 2007.[13] "Crashed", the album's fifth single, was released to rock stations on September 10, 2007, where it was also used in a commercial for LEGO Bionicle. The song was also performed on the Pre-Race show on ABC for the NASCAR NEXTEL Cup Chevy Rock and Roll 400. The album's sixth single, "Feels Like Tonight", was released on January 8, 2008, nearly two years after the album's release. The video debuted in January and the song was used for the 2007 WWE Tribute to the Troops. Their song "There and Back Again" was also the official theme song for WWE Backlash in 2007.
Due to the success of the singles, Daughtry was certified 3x Platinum on June 21, 2007 and has since reached 4x Platinum, selling four million copies. The group is on page 8 on Myspace.com of the most played artists, with over 29 million plays. In addition, the group has appeared on the famous compilation album series Now That's What I Call Music! five times, with their songs "It's Not Over", "Home", "Over You", "Feels Like Tonight" and "What About Now". The band was also nominated for four Grammy Awards in 2008, for Best Pop Performance by a Duo or Group with Vocal, Best Rock Album, Best Rock Song and Best Rock Performance by a Duo or Group with Vocal. According to billboard.com, Daughtry has had twenty #1 hits around the world.
A Deluxe edition of Daughtry's self-titled album was released on September 9. Along with the original CD, this expanded CD/DVD package features four bonus tracks, including acoustic versions of "What About Now," "It's Not Over," and "Home," plus a cover of Foreigner's "Feels Like the First Time". The DVD contains all five of Daughtry's music videos, two rarely seen live clips, and exclusive on the road footage.
A shortened version of their massive hit single "Home" was used at the end of the English League Cup Final in February 2008 when the compilation of Tottenham Hotspur victory over Chelsea was shown at the end of the Sky coverage.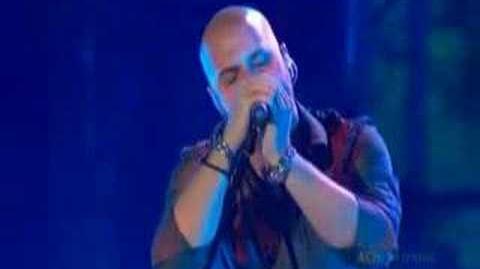 2009–present: Leave This Town Edit
On March 9, 2009, Chris announced on Daughtry Official that he and the band had finished the album's recording. The highly anticipated sophomore record was released on July 14, 2009 with 14 songs making the cut from the 19 recorded songs.
Chris has said that the new record is a very big rock album. He has also stated that the band had written and recorded over 30 new songs. He worked with Chad Kroeger from Nickelback, Ryan Tedder from OneRepublic[14], Trevor McNevan from Thousand Foot Krutch, Jason Wade from Lifehouse, Richard Marx, Scott Stevens from The Exies, Adam Gontier from Three Days Grace and Eric Dill, former vocalist for The Click Five.
The album's first single "No Surprise" was released on May 5, 2009 through their website.[15] It officially went for radio play on May 26. Daughtry appeared on American Idol on May 6, 2009 (which is the Result Show of Season 8's 'Rock Week') performing "No Surprise". The new album was released on July 14, 2009, and its title is Leave This Town.[16]
Leave This Town debuted at #1 on the Billboard 200 selling 269,000 copies in its first week.[17] The record was also No. 1 on the Digital Albums Chart and the Rock Chart.[18]
With the release of Leave This Town, Chris Daughtry made American Idol history by becoming the first 'Idol' to have two consecutive #1 albums.
The song "Home" from Daughtry's debut album was featured in a commercial for the new FOX show The Cleveland Show. The song features Family Guy's Cleveland as he sets off to make his own television show. Cleveland is also singing the song.
According to Timbaland fansite The Timbaland Buzz, and pictures posted on Daughtry's Official Twitter, Daughtry is scheduled to be a guest on Timbaland's next album Shock Value 2 reportedly due out at Christmas time.
The band has been touring non-stop since January 2007. They have performed across the U.S. and Canada, along with shows in the UK, Germany, and Singapore. They opened for Nickelback for a brief stint, Puddle of Mudd, and Finger Eleven and have featured 12 Stones, Cinder Road, Small Town Sleeper, Day Of Fire and Eve To Adam as opening acts. On May 27, 2007, the band performed during the Indianapolis 500 Pre-Race show on ABC, and headlined the 2007 Summerfest at the Marcus amphitheater in Milwaukee, WI with a crowd of more than 15,000 on July 6.
Daughtry has played shows in Australia, as well as the United Kingdom and across Europe for the first time and opened for Bon Jovi for several shows in November. They were featured as the opening act during Bon Jovi's Lost Highway Tour. The band began a sold out tour with Bon Jovi on February 18, 2008 all the way through the end of April. Chris even joined Bon Jovi onstage every night to perform their hit, Blaze of Glory". Some of the biggest purchases for the Bon Jovi/Daughtry shows made over 4 million dollars. Daughtry's headlining tour alone in 2007 raked in around 10 million dollars.
Daughtry joined forces with the ONE Campaign at 2008's Democratic National Convention and Republican National Convention to raise awareness about world poverty. The band refused to back a presidential candidate during their interviews.
Band members
Edit
Current members
Edit
Former members
Edit
Jeremy Brady - rhythm guitar, backing vocals (2006–2007)
Jaysen Buterin - cowbell (2006–2007)
Session musicians
Edit
Discography
Edit
Main article: Daughtry discography
2007 American Music Awards (winner)
Breakthrough Artist
Best Adult Contemporary Artist*
Best Pop/Rock Album
2008 American Music Awards (Winner/Nominated)
Favorite Band, Duo or Group- Pop/Rock
Favorite Artist- Adult Contemporary Music
People Choice Awards (winner)
Best Rock Song for "Home"
2007 Billboard Music Awards (winner)
Top Billboard 200 Album
Top Artists - Duo/Group (Pop)
Top New Artist
Top Comprehensive Artist
Hot 100 Artists - Duo/Group
Hot Adult Top 40 Artist
2007 World Music Awards (winner)
Worlds Best Selling Rock Group Of 2007
Worlds Best Selling New Artist Of 2007
External links
Edit
References
Edit
Community content is available under
CC-BY-SA
unless otherwise noted.