Line 19:
Line 19:
 

Achievements for Xbox 360 versions are named after songs by Aerosmith.

 

Achievements for Xbox 360 versions are named after songs by Aerosmith.

 
 
−

== Story ==

+

Story

−

A departure from the other games, Guitar Hero: Aerosmith follows the career of Aerosmith. At first, players start each tier as two opening acts, which the band from previous titles play as, with a Rhythm Guitarist added. After finishing the songs, the audience demands the namesake band (similar to encore demands in previous titles), and then the players perform two more songs as Aerosmith. Once THAT is completed, players must perform an encore as Aerosmith.

 
 
 
 
+

guitar hero: aerosmith follows the story of aerosmith, unlike the other guitar hero games, this one and guitar hero: metallica and guitar hero: van halen are band specific games. anyways, instead of playing just aerosmith songs, you actually have to play two non-aerosmith songs then after that the audience wants aerosmith, you then play two songs as aerosmith, and after you beat those songs you then play an encore as aerosmith and then move on to the next venue. the story starts from aerosmith's first gig at nipmuc high school, and then goes to maxas kansas city, and then keeps on going until you get to the 6th tier and final tier which is the rock 'n' roll hall of fame. the game has lou from guitar hero 3 come back, the game only has 31 songs in the main setlist, but it will leave you feeling happy at the end of the day.

−

In the last tier, before Aerosmith is called onto the stage, Joe Perry challenges the player (as a different Guitar Hero) to a [[Guitar Battle]].

 
 
 
 

== Stages ==

 

== Stages ==
---
Revision as of 02:31, 10 February 2014
Guitar Hero: Aerosmith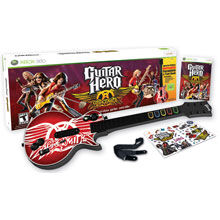 Developer(s)
Beenox Studios
Release date(s)
June 16, 2008
Genre(s)
Music video game
Mode(s)
Single-player, multiplayer
Media
Blu-ray (PS3), DVD (PS2/Xbox 360/PC/Mac), Wii Optical Disc (Wii)
Input methods
Guitar controller, gamepad, Wii controller

Guitar Hero Aerosmith is by Activision and Neversoft. It was released on June 29th 2008 for U.S.. It takes the player through the history of the band Aerosmith, and stopping off at real tour spots they went, like The Super Bowl in 2001.
Game Modes
All modes which appeared in Guitar Hero III return, except for Co-Op Career. The original Co-op mode was brought back, though. Menus have been re-designed to suit the Aerosmith theme to the game. The shop has also been renamed as The Vault.
Achievements for Xbox 360 versions are named after songs by Aerosmith.
Story
guitar hero: aerosmith follows the story of aerosmith, unlike the other guitar hero games, this one and guitar hero: metallica and guitar hero: van halen are band specific games. anyways, instead of playing just aerosmith songs, you actually have to play two non-aerosmith songs then after that the audience wants aerosmith, you then play two songs as aerosmith, and after you beat those songs you then play an encore as aerosmith and then move on to the next venue. the story starts from aerosmith's first gig at nipmuc high school, and then goes to maxas kansas city, and then keeps on going until you get to the 6th tier and final tier which is the rock 'n' roll hall of fame. the game has lou from guitar hero 3 come back, the game only has 31 songs in the main setlist, but it will leave you feeling happy at the end of the day.
Stages
There are six tiers stages in the game.
Getting the Band Together (Nipmuc High School)
First Taste of Success (Max's Kansas City)
The Triumphant Return (The Orpheum)
International Superstars (Moscow)
The Great American Rock Band (Half-Time Show)
Rock n' Roll Legends (Rock & Roll Hall of Fame)
Characters
Characters from Guitar Hero III will return, as opening acts, with new costumes based on the Guitar Hero III ones.
New characters include Joe Perry (guitarist), Tom Hamilton (bassist), Brad Whitford (guitarist) and DMC (of Run-D.M.C). All four are unlockable, and are actual guitarists. Their real-life counterparts did motion capture exclusively for the game.
Track listing
Group Members
"Joan Jett" - vocals, guitar
"Kenny Laguna" - keyboards, vocals
"Dougie Needles" - guitar, backing vocals
"Enzo" - bass, back vocals
"Thommy Price" - drums, percussion, backing vocals
Trivia
If you create a band and choose "Aerosmith" as the name, you can go straight to Moscow.
If you use the Unlocked All Songs cheat, the song Pandora's Box isn't unlocked.
This is 1 of the 2 games(The other being Guitar Hero: Metallica) that is rated M in Australia compared to the usual PG Rating (Except Band Hero which is rated G)
This is the only game where songs that are covered have the artist who covered the song plus who did the song originally.
The setlist is extremely shorter than that of Guitar Hero III; and there are only 6 venues. GH3 featured 16 venues (8 for Single Player, 8 for Co-op)
Gallery