Guitar Hero 5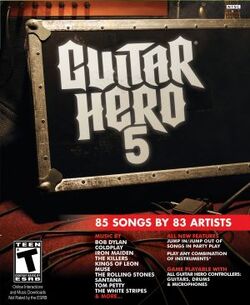 Release date
September 1, 2009
Genre(s)
Music video game
Mode(s)
Single-player, multiplayer
Media
Blu-ray (PS3), DVD (PS2/Xbox 360/PC/Mac), Wii Optical Disc (Wii)
Input methods
Guitar controller, Microphone, drum controller, gamepad, Wii controller
Guitar Hero 5 is a music video game and the fifth main entry in the Guitar Hero series. The game was developed by Neversoft and published by RedOctane and Activision. It was released on September 1, 2009. Similar to the preceding title, Guitar Hero World Tour, Guitar Hero 5 is geared towards playing in a four-person band experience, including lead and bass guitar, drums, and vocals. New features have been added to the game from World Tour such as Avatar support for the Xbox 360 version. A new feature in this game allows you to transfer songs from previous games.
Gameplay in Guitar Hero 5 is similar to previous games in the series. Using a special game controller, players attempt to match scrolling notes as they appear on screen to mimic the playing of rock music and other songs. Hitting correct notes in time with the music increases the player's score and builds their performance meter, while missing notes will cause the meter to drop. Should the meter fall below a certain threshold, the song will end prematurely with the player booed off the stage by a virtual audience. Correctly hitting consecutive notes will build the player's score multiplier. Specially marked sections of the song, if completed correctly, help to build up Star Power when then can be unleashed through an action with the controller to further double the current score multiplier.
As with Guitar Hero World Tour, Guitar Hero 5 supports the playing of lead and bass guitar through guitar controllers, drums through a drum controller, and vocals through a microphone. Players can also play in groups of up to four local or remote players to form a band, co-operatively playing through a song. Whereas in World Tour, a band could only have one of each instrument, Guitar Hero 5 allows players to arrange for any combination of instruments, including all four players on the same instrument if they so choose. While playing in a band, Star Power is now tracked separately for each player, as opposed to collectively for the band as in World Tour. Star Power is no longer shared by the band, and instead tracked for each player in a similar manner as Rock Band. A new play mechanic called "Band Moments" will require all members of the band to play sections of a song successfully to gain rewards, both in scoring and visual effects on screen. The Band Revival meter will appear when a player fails out of the song, requiring the other band members to play well as a group together in order to bring the failed player back into the game.
The Career mode for the game will incorporate any World Tour DLC that the player may have. Bonus challenges in the game, such as scoring a number of points while in Star Power, will reward the player with unlockable content when they are completed.
There are two brand new features in this entry. The first is a "Party Play" mode, which allows players to jump into a band or drop out even in the middle of a song, and switch instruments or difficulty levels while playing. The second feature is a "RockFest" mode, which can be played by four players locally or eight online, with several sub-modes that influence how the game is played. For example, in the "Momentum" mode, the game adjusts the difficulty of the note track based on how well the player is playing, with more points rewarded by staying at the "Expert" difficulty. Other sub-modes of RockFest include "Elimination" in which the worst player is dropped periodically, "Perfectionist" where only certain sections of a song count towards points, "Do-or-Die" which forces a player to wait a brief time if they miss a note, and "Streakers" that rewards the player for long strings of consecutive notes.
An additional feature introduced in Guitar Hero 5 are Challenges, including those tied to specific songs and "open gig" challenges. These were created by Neversoft to allow the developers to take advantage of unique features of many of songs according and provide another layer of gameplay, according to Neversoft's Brian Bright. Each challenge features three possible completion levels—Gold, Platinum, and Diamond, mimicking the music recording sales certification levels—with Diamond being the most difficult to complete. The song-specific challenges, include both instrument-specific challenges, such as correctly vocalizing the repeated "Fame" lyric at the end David Bowie's "Fame" as it moves down in pitch, and more general scoring or performance challenges. Open gig challenges will be randomly presented by sponsors within the game, and will be based on performance aspects such as scoring a certain amount of points using Star Power or using the guitar controller's whammy bar continuously for a length of time. These allow the player to select any song to complete, with some songs potentially being better suited for completing that challenge. The process of these challenges is shown in-game by a record meter that appears when the challenge is active, and fills up similarly to the overall scoring meter as the player successfully completes towards the challenge. Higher completion levels, particularly Diamond, may only be obtained by playing the Expert difficulty of a song, but players can use the mid-song difficulty adjustment feature, and if playing in a band, all players are awarded for completing a challenge if one of the members is able to do so.
The rewards of the challenges are used to replace the previous in-game money reward for buying new outfits and characters in previous Guitar Hero games. As noted by Bright, completing songs in Guitar Hero 5 will give players from one to nine stars; up to five stars for general performance, a sixth star for a perfect performance, and up to three more for the challenges. These will be used to unlock new avatars, outfits, and other additional content for the game.
The Music Studio feature, which allows players to create their own songs and distribute them through the "GHTunes" music service is also be improved.
Avatars of famous musicians will part of the game, performing for songs by that artist and available as unlockable characters. Johnny Cash has been confirmed as a playable character. Johnny Cash tribute artist Terry Lee Goffee has provided motion capture for his character. They have also been confirmed to be in the game, most likely as a playable characters. Shirley Manson of Garbage has been confirmed to be in the game, through an IGN video. While the standard character creator will be available for all versions of the game, the Xbox 360 version will allow players to import their Xbox Live Avatar into the game.
The Wii version of the game, developed by Vicarious Visions, will be "full feature parity" with the Xbox 360 and PlayStation 3 versions, including support for up to eight players online, each possibly on their own console. The game will not require players to enter game-specific Friends Codes, but instead will use the global Wii address book to locate friends. The "Mii Freestyle" mode, introduced in World Tour, will also be present, and with changes to address some of the issues with less-skilled players trying to play well together. A "Guitar Hero Nintendo Ecosystem" will be introduced in Guitar Hero 5, letting the Wii version communicate with the Nintendo DS, including a stage manager/video editor DS controller feature in conjunction with the Mii Freestyle mode, and a new game mode called "Roadie Battle".
The fifth main entry to the Guitar Hero series was announced in December 2008, with confirmation of its release by the end of 2009 coming in May 2009, along with the announcement of other new Guitar Hero titles.
The Party Play mode was inspired by recognizing that past Guitar Hero games made it difficult to jump into without maneuvering through a number of menus and selection screens. The mode was designed to be used at social gatherings, and was adopted to use whatever instrument controllers that players already had available, thus allowing for various other combinations beyond the standard four-person band. This aspect of the game was then brought to the other band modes to allow the game to remain flexible.
A new guitar controller is being developed for Guitar Hero 5, sold with bundles with the game though the option for standalone versions has not yet been determined. The unit is mostly a redesign of the World Tour model with a new red finish, featuring a more accurate and responsive touch pad due to it being tracked digitally and with added tactile responses, a more accurate strum bar, and a controller finish that will make it easier to handle with sweaty hands. Guitar Hero 5 drum kit has also been redesigned, still featuring five drum pads but appearing closer to the Rock Band drum kit, with round cymbals and means of fixing the bass drum kick pedal.
As part of the game's early promotion, a scavenger hunt contest was announced in the last week of May 2009. Players would need to search for articles on specific game-related sites to find information on the bands that are to be in Guitar Hero 5, and then enter those bands at the game's official website for a chance to win a series of concert tickets in their area. Through this promotion, a large number of artists in the final track list were revealed.
A viral video in late July 2009 announced the last handful of songs for the game features four naked women walking down a public street, with black censor bars used to cover their bodies but also used to announce the song names. The video attracted the anger of Bill O'Reilly, calling the video "shameless" and the models as "pinheads".
US gamers who pre-ordered the game or bought specially marked versions of the game recieved an early copy of Guitar Hero: Van Halen for free.
As expected, this newest release of the Guitar Hero series contains 10 of the original Guitar Hero characters. In addition, however, are more "Unlockable" characters, Including Johnny Cash, Carlos Santana, Muse's Matt Bellamy, Nirvana's Kurt Cobain, Garbage's Shirley Manson, and some of Neversoft's custom made characters including FrankenRocker, Skeleton, Golden God, Shadow, Gerald Contest Winner, Robbie Lobster, Metalhead , Fembot , Scrap Heap, and Racques Topus. The quick way to unlock these characters is to select "Options" from the "Main Menu", select "Input Cheats", then enter Blue, Blue, Green, Green, Red, Green, Red, Yellow. This code does not work on the Playstation 2 version.
Main article: Guitar Hero 5 set list
Songs from 85 musicians is on the game disc. Tracks from 30 artists represent their "music-rhythm video game debut". Brian Bright, project director for the game, has called the track list "fresh", with 25% of the songs released in the last 18 months, and more than 50% from the current decade. Unlike previous versions of the Guitar Hero series, where players must work through a career mode to unlock all the songs in the game, all songs in Guitar Hero 5 will be unlocked and available to play in any mode from the start, similar to Guitar Hero: Metallica. In addition, existing downloadable content for Guitar Hero World Tour will be forward-compatible with Guitar Hero 5; the existing content will be automatically upgraded to include all features new to Guitar Hero 5, but this does not apply to a limited number of songs. The songs that will not be transferable will be due to licensing issues, as Director Brian Bright has stated that there are no technical limits for what songs could be transferred.
Bright noted that previously, while "Under Pressure" by Queen and David Bowie was always a song they wanted in Guitar Hero, they could not find the masters for it. However, for Guitar Hero 5, the masters have since "magically appeared" and is part of the game's tracklist. "I Walk the Line" by Johnny Cash was thought to be in the game as Terry Lee Goffee had done motion capture for the song, but the song never appeared in the game or any further DLC.
Community content is available under
CC-BY-SA
unless otherwise noted.