We're Getting Mutants in the MCU - The Loop
Play Sound
Guitar Hero II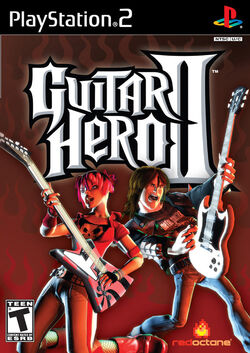 Platform(s)
PlayStation 2
Release date(s)
NA: November 7, 2006
AU: November 15, 2006
EU: November 24, 2006
Genre(s)
Music video game
Mode(s)
Single-player, multiplayer
Input methods
Guitar controller or gamepad
Guitar Hero II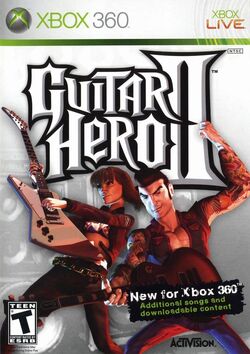 Release date(s)
NA: April 3, 2007
AU: April 4, 2007
EU: April 6, 2007
Genre(s)
Music video game
Mode(s)
Single-player, multiplayer
Input methods
Guitar controller or gamepad
Guitar Hero II is the second entry of the Guitar Hero series developed by Harmonix and published by RedOctane for the PlayStation 2 on November 7, 2006. An updated Xbox 360 version was published by Activision on April, 2007.
For more information see:
Gameplay
[
]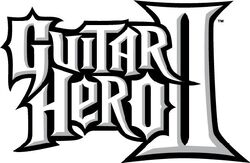 Gameplay is the same of that of the original Guitar Hero. Player can use either use a guitar controller or a gamepad (DualShock 2 or Xbox 360 controller) to hit notes that cross targets at the bottom of a fretboard. Hitting notes consists of using colored frets on the guitar controller to target notes on the in-game fretboard. There are still four difficulties including Easy, Medium, Hard, and Expert. Each difficulties range in the number of frets used. Easy uses the first three, medium uses the first four, hard, and expert uses all five.
New changes since Guitar Hero

[

]
While retaining the original gameplay style, there were several improvements and new features added to Guitar Hero II since Guitar Hero.
New features include:
New playable tracks: In addition to the playable Guitar track, Guitar Hero II's cooperative play now supports a playable Bass track in most songs alongside the Guitar track while some songs will have a Lead Guitar track (separate from the Guitar track) and Rhythm Guitar track. Lead Guitar and Rhythm Guitar playable tracks are also available in cooperative play of Guitar Hero III: Legends of Rock and Guitar Hero: Aerosmith but were removed in Guitar Hero Encore: Rocks the 80s and every entry after Guitar Hero: Aerosmith.
New multiplayer modes:
Practice mode: The ability to play songs on any playable track with no Rock Meter, no scoring (multiplier is still displayed), and no Star Power phrases. The player can also choose certain sections of a song to play with a start point and an end point. The player can also play songs at full speed, slow, slower, or slowest.
New option menus:

Lag calibration: The first Guitar Hero game lacked the ability to adjust audio and video delay, making the first Guitar Hero game visually or audibly unplayable on certain televisions, especially on high-definition televisions. In Guitar Hero II, the delay can be adjusted from strum testing.
Widescreen mode: Adjusts and extends the edges of the screen from 4:3 to 16:9 aspect ratio for widescreen televisions.
Progressive scan: With RGB component cables, Guitar Hero II can be played at 480p on high-definition and enhanced-definition televisions.
New improvements include:
Hammer-ons and pull-offs: In the first Guitar Hero game, hammer-ons and pull-offs had some strict rules for them to work. These strict rules were removed in Guitar Hero II. Players can now tap hammer-ons and pull-offs while in a combo without needing to keep frets held, making them easier to play. In most songs, hammer-on and pull-off notes will only appear on notes less than an eighth-note distance apart but in some songs such as "Thunderhorse," hammer-ons and pull-offs are placed on notes within the distance of an eighth note.
For more changes, comparing the PlayStation 2 version with the Xbox 360 version, see: Guitar Hero II (Xbox 360)
Soundtrack
[
]
Main article: Setlist in Guitar Hero II
Guitar Hero II features more songs than the first Guitar Hero game. These songs are placed on a scale of difficulty easy songs like Shout at the Devil, and Mother are at the top, while more difficult songs are at the bottom. Examples of these are Hangar 18, and Free Bird.
Venues
[
]
Rock City Theater