Jurassic World: Dominion Dominates Fandom Wikis - The Loop
Play Sound
Guitar Hero III: Legends of Rock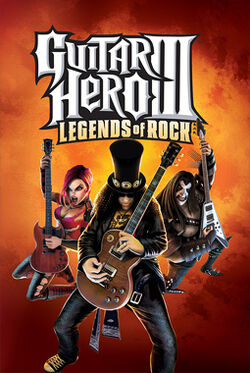 Release date(s)
Consoles
NA: October 28, 2007
AU: November 7, 2007
EU: November 23, 2007
KO: 2007 (PS2/PS3), September 12, 2008 (Wii)
JP: March 6, 2008 (PS2/PS3), May 22, 2008 (Wii), July 24, 2008 (Xbox 360)

Microsoft Windows
NA: November 13, 2007
AU: April 19, 2008
EU: November 30, 2007

Mac OS X
NA: December 10, 2007
EU: January 21, 2008
Genre(s)
Music video game
Mode(s)
Single-player, multiplayer
Media
Blu-ray (PS3), DVD (PS2/Xbox 360/PC/Mac), Wii Optical Disc (Wii)
Input methods
Guitar controller, gamepad, computer keyboard (PC/Mac)

Guitar Hero III: Legends of Rock is the fourth Guitar Hero game and third main entry in the Guitar Hero series, released on October 28, 2007 in North America, on November 7, 2007 in Australia, and on November 23, 2007 in Europe. It is the first game in the series to be developed by Neversoft, as previous Guitar Hero games were created by Harmonix before they handed the series over to Neversoft and Vicarious Visions.
Gameplay
Guitar Hero III: Legends of Rock uses much of the same gameplay as the previous titles in the series. The game features a more realistic guitar controller.
Some changes have been made to gameplay from previous titles.
Compared to its main predecessor Guitar Hero II, the gameplay in Guitar Hero III: Legends of Rock feels smoother and more stable, and it is much easier to play songs in Guitar Hero III rather than in the previous entries of the series. The timing for hitting notes has been increased meaning players can be less accurate and still hit notes and this is especially noticeable on hammer-on and pull-off notes.
Speaking of hammer-ons and pull-offs, in addition to hammer-ons and pull-offs being easier to play in Guitar Hero III than in the previous Guitar Hero entries, they have been manually placed on single notes that would either hammer-on/pull-off, bend, or slide, even at a distance apart. Regular strumming single notes can be placed between notes less than an eighth distance too whereas by default in previous Guitar Hero games, hammer-ons and pull-offs were always on notes less than an eighth note apart (with the exception of some songs having HOPOs up to an eighth note apart like Guitar Hero II's "Thunderhorse").
As for the whammy bar, previous entries of the Guitar Hero series had issues registering the whammy when it was already pressed down right before a long note and this issue was fixed in Guitar Hero III: Legends of Rock.
Controllers
All console versions (excluding PC and Mac) feature wireless controllers. The PlayStation 3 and Xbox 360 versions both use a black Gibson Les Paul controller, but some Xbox 360 versions included Guitar Hero II's X-Plorer controller. The Wii version controller is a white Gibson Les Paul, and it features a slot for the Wiimote and utilizes the remote's internal speaker and rumble feature. The PlayStation 2 version of the game comes bundled with a Kramer Striker controller. The PC and Mac versions can be played with either the keyboard or the Xbox 360 X-Plorer, since the latter utilizes wired USB capability.
Battle Mode
Main article: Battle Mode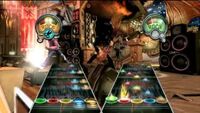 Battle Mode is a new head-to-head multiplayer game starting in this game. Unlike Face-Off and Pro Face-Off, each player in Battle Mode has their own Rock Meter. Players can choose their own difficulty level on Battle Mode like Face-Off Mode. Star Power in Battle Mode is replaced by Battle Power-Ups. Activating Battle Power-Ups is done the same way as activating Star Power, except Battle Power-Ups are intended to negatively affect the opponent's performance. The goal of Battle Mode is to make the opponent's performance suffer until their Rock Meter goes down completely and they fail the song. The player whose Rock Meter reaches the bottom first loses, and the song ends immediately. If no players lose and if the song ends, the song starts over and goes into Sudden Death mode. In Sudden Death mode, both players' rock meter and current Battle Power-Ups stays the same; however, all Battle Power-Ups gained during Sudden Death mode are replaced by the Death Drain power-up, which unavoidably makes the opponent's Rock Meter drain. The list of available powerups are:
Amp Overload: Notes flash and the highway shakes, making notes harder to see.
Broken String: The player must repeatedly press the "broken" fret button to repair it.
Death Drain (Sudden Death only): The rock meter steadily drains. Hitting notes can help slow down the effect but it will not get rid of it. This power-up will last throughout the entire song on Sudden Death until the song is over or if a player fails.
Difficulty Up: Increases the difficulty level for the player. If a player is facing someone who is playing on Expert, they will not get this power-up.
Double Notes: An additional note is added to each note, making all notes to be chords. Single notes become double-note chords and double-note chords become triple-note chords. However, triple-note chords remain triple notes and do not become quadruple-note chords.
Lefty/Righty Flip: Reverses the dexterity of the strike line (similar to Lefty Flip Mode).
Steal Power-Up: Steals the opponent's current power-up if they have one. If the opponent doesn't have a power-up when using Steal Power-Up, the usage of Steal Power-Up would be a waste.
Whammy Bar: A whammy bar symbol appears on the screen and no notes can be played until the player repeatedly presses in the whammy bar to remove it.
In Career Mode, there are three boss battles: Tom Morello, Slash, and Lou. These special battles will happen before the encore of their respective venue, with the exception of Lou, whose battle is slightly different. If the player manages to survive the whole song but cannot defeat the boss, Sudden Death mode will activate, and the player will lose. When the player defeats a boss, they will play an encore with said boss. The exception to this is Lou, who must be "finished off" upon defeat. During this time, Lou will be unable to play, and the player must play the end of "The Devil Went Down to Georgia".
Characters
Neversoft lead developer Alan Flores revealed that Guitar Hero III has a cast of thirteen characters. Characters returning from previous titles are Johnny Napalm, Judy Nails, Axel Steel, Izzy Sparks, Casey Lynch, Lars Ümlaüt, and Xavier Stone; Midori is an original playable character who can be selected. Additionally, each version of the game has two additional playable characters who can be unlocked: the Wii and PlayStation 2 versions include Metalhead and Elroy Budvis, while the PlayStation 3, Xbox 360, PC, and Mac versions include the God of Rock and the Grim Ripper.
In addition, the player can unlock three bonus characters through Career mode boss battles: Tom Morello, Slash and Lou the Devil. Bret Michaels appears in the game and sings specific songs, but he is not a playable character in the game without the use of a cheat code (Exclusive to the Playstation 3 and Xbox 360 Versions.). Michaels is only present when playing Talk Dirty to Me or Go That Far on all versions of the game, replacing the traditional vocalist. With the use of a cheat code, however, he can also sing any other song in the game on all consoles except the PS2 and Wii.
Venues
Solo Venues
Co-op Venues
Soundtrack
Main article: Setlist in Guitar Hero III
Guitar Hero III: Legends of Rock features 73 playable songs; 42 are part of the main setlist, 6 are exclusive to the Co-Op Career mode, and the remaining 25 are bonus tracks. In total, 54 of the game's songs are master recordings.
Guitar Hero III also supports downloadable tracks for the Xbox 360 and PlayStation 3 versions; several free and for-cost downloadable songs and song packs are available on both the Xbox Live Marketplace and the PlayStation Store.
While the Windows and Mac OS X versions do not have downloadable tracks support, the Guitar Hero gaming community have created third-party mods/software to import any charted song into the game or change the game's setlist.
Achievements
Exclusive to the Xbox 360 version, there are a total of 59 achievements in the Xbox 360 version of Guitar Hero III: Legends of Rock that can grant a total of 1,000 gamerscore for an Xbox Live account. The achievements for the Xbox 360 version of the game can be viewed here.
The PlayStation 3 version did not have trophies as trophies did not exist on the PlayStation 3 until version 2.40 of the PlayStation 3 system software released on July 2, 2008, nine months after Guitar Hero III: Legends of Rock was published.
Goofs
External links