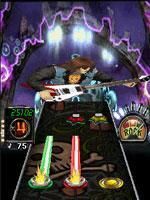 Guitar Hero Mobile is a music video game created by MachineWorks and published by Hands-On Mobile for wireless phones. It was the first title in the Guitar Hero series released on mobile devices. It was released on December 20th, 2007 for Verizon Wireless and April 1st, 2008 for Blackberry devices.
Development
[
]
Guitar Hero Mobile was programed by RTSoft (affiliation with MachineWorks). The game graphics were designed by RTSoft & MachineWorks by the Anthem Game Group.
Gameplay
[
]
The gameplay of Guitar Hero Mobile is very similar to the Playstation, Xbox & Wii, except they only use 3 frets instead of 5. There is green (1, 4 & 7), red (2, 5 & 8) & yellow (3, 6, 9). The star power is the "*" button or "ok" button. When long notes, or sustains come you have to hold the numbers down. The score process is the same as all the other Guitar Hero games. Double notes are also featured in Guitar Hero Mobile. The grapics aren't the best, but it is still a great way to have fun on the go. You can only play as Judy Nails & Axel Steel.
Guitars
[
]
On Guitar Hero Mobile, there are only 4 guitars to chose from. They are Les Paul, Flying V, Gibson SG & Double neck. You start out with 1 guitar. Here is the way to unlock the guitars.
Les Paul: Start with during career.
Flying V: Beat career on easy difficulty.
Gibson SG: Beat career on medium difficulty.
Double Neck: Beat career on Expert difficulty.
Tracklist
[
]
Main Article: Guitar Hero Mobile Setlist