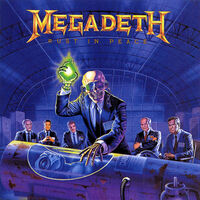 Hangar 18, by Megadeth, is a song on their 1990 album Rust In Peace. It is the last song in the 8th tier for Guitar Hero II  (excluding Free Bird). The song is based on the place of the same name, where it is said that an alien spacecraft was brought from Roswell, New Mexico in 1964 (this is also the basis for the music video). It features a very difficult solo section and is regarded as the most difficult career song. It also appeared as Downloadable Content for Guitar Hero 5, and in Guitar Hero Live, where it is considered to be harder than ever before, due to the new button configuration. However, since the music video is played, and not the studio version, the song is shortened drastically.                                                                                                                                  Guitar Hero II 
This song appears as a Music Video in GHTV.
FCs
[
]
Although it is considered the hardest song in Career mode, a fair amount of people have still FCed it.
The people that have FCed it are...
a.crowley
alexhaz64
AdamHero
baseballkid7
beberle2
blazehero17
Confury
dclapp
elitewarrior500
f4phantom2500
freakshowexcess
fudrick
Fug
k3v227
lahawk1001
Lo7
HellAshes
HoLzBeRd
iamchris4life
intotheflames
jameslikecoulter
jamesw
KramRal
Marbler
McSkinny
mike1
munkeyzero
monkeyman154678
Monstrousity
Orson
PrestonxPunk
psxfreak101
Razzmatazz
Rexisfed
Rishi
ShonSuperStar
Squigglejoe
Summ
UTofPojo
witwix
xbillax
Xelna
Z1mb0bw4y                                                                                                                                                                                                                                                                                                                                
Video
[
]
Guitar Hero 5
"2 Minutes to Midnight" "20th Century Boy" "21st Century Schizoid Man" "A-Punk" "All Along the Watchtower" "All the Pretty Faces" "American Girl" "Back Round" "Bleed American" "Blue Day" "Blue Orchid" "Brianstorm" "Bring the Noise 20XX" "Bullet with Butterfly Wings" "Cigarettes, Wedding Bands" "Comedown" "Dancing with Myself" "Deadbolt" "Demon(s)" "Disconnected" "Done with Everything, Die for Nothing" "Do You Feel Like We Do?" (Live) "Du Hast" "Ex-Girlfriend" "Fame" "Feel Good Inc." "Gamma Ray" "Gratitude" "Hungry Like the Wolf" "Hurts So Good" "In My Place" "Incinerate" "In the Meantime" "Jailbreak" "Judith" "Kryptonite" "L.A." "Lithium" (Live) "Lonely Is the Night" "Looks That Kill" "Lust for Life" (Live) "Maiden, Mother & Crone" "Make It wit Chu" "Medicate" "Mirror People" "Nearly Lost You" "Never Miss a Beat" "No One to Depend On" (Live) "One Big Holiday" "Only Happy When It Rains" "Play That Funky Music" "Plug In Baby" "Ring of Fire" "The Rock Show" "Runnin' Down a Dream" "Saturday Night's Alright for Fighting" "Scatterbrain" (Live) "Send a Little Love Token" "Seven" "Sex on Fire" "Shout It Out Loud" "Six Days a Week" "Smells Like Teen Spirit" "Sneak Out" "So Lonely" "Song 2" "Sowing Season (Yeah)" "The Spirit of Radio" (Live) "Steady, As She Goes" "Streamline Woman" "Sultans of Swing" "Superstition" "Sweating Bullets" "Sympathy for the Devil" "They Say" "Under Pressure" "Wannabe in L.A." "We're an American Band" "What I Got" "Why Bother?" "Wolf Like Me" "Woman From Tokyo" ('99 Remix) "You and Me" "You Give Love a Bad Name"
"Younk Funk"