If You Want Peace... Prepare For War
Performed By
Children of Bodom
Year
2005
Appears in
Guitar Hero: Warriors of Rock
Genre
Death Metal
Guitar Intensity
90%
Bass Intensity
90%
Drums Intensity
80%
Vocals Intensity
10%
Length
3 min 58 sec
Music
noicon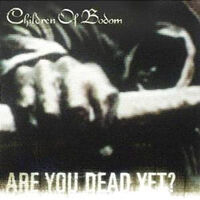 If You Want Peace... Prepare For War is a song by Children Of Bodom in Guitar Hero: Warriors of Rock. The song is unlocked upon completing the Quest Mode. It is a fairly hard song, with blistering solos and the "fast riff" that repeats 3 times throughout the song,the first of witch is extended. The drums are easy for a metal song, but still hard.
Sections
[
]
Intro
Fast Riff 1A
Fast Riff 1B
Heavy Riff 1
Verse 1
Heavy Riff 2
Guitar Theme 1
Fast Riff 2
Verse 2
Chorus 1A
Chorus 1B
Guitar Theme 2
Guitar Solo 1
Synth Solo
Guitar Solo 2A
Guitar Solo 2B
Fast Riff 3
Chorus 2A
Chorus 2B
Chorus 2C
Chorus 2D
Lyrics
[
]
Go!
Yow!
Pain is really what you wanna be
Hate me all the same, but I'm gonna say
Behind I see this turning point
We are returning up in demise
Ah!
Soon be there to walk another side of night
We're burning on a purified
Smash your face and now prepare to die
Are we really gonna die?
Pick up and fight, release tonight
Go on and fight
Smashing your face, in need to bite
Calling my name
Calling me pain, and if you stay
You'll bite the scythe
Waiting for you I want to just tell you
If you want peace, prepare for war!
Pick up and fight, release tonight
Go on and fight
Smashing your face, in need to bite
Calling my name
Calling me pain, and if you stay
Youu'll bite the scythe
Waiting for you I want to just tell you
Pick up and fight, release tonight
Go on and fight
Smashing your face, in need to bite
Calling my name
Calling me pain, and if you stay
You'll bite the scythe
Waiting for you I want to just tell you
If you want peace, prepare for war
Songwriters
[
]