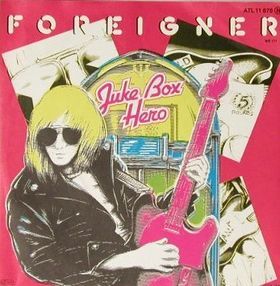 "Juke Box Hero" is a popular song from 4, the 1981 album by Foreigner.
The song focuses on a boy unable to purchase a ticket to a sold-out rock concert at the Blue Cross Arena in Rochester, New York. Listening from outside, he hears "one guitar" and has an epiphany, leading him to buy his own guitar from a second-hand store and begin to play without any lessons. He realizes that with the guitar he can become famous, and does.
The song then goes on to describe the struggle he has to stay on top of the music charts, which makes him a "Juke Box Hero." He eventually encounters another fan outside the stage door at one of his concerts, who reminds him of himself and how it all began. Mick Jones told Songfacts that the song was inspired by an actual fan who stood waiting outside an arena for about five hours in the rain. Jones, impressed by his dedication, decided to take him in and give him a glimpse of what happens backstage at a show.
Appears In
[
]
Guitar Hero 5(downloadable)

Guitar Hero III: Legends of Rock (downloadable)
Videos
[
]
.