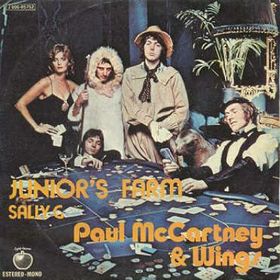 Junior's Farm" is a song written by Paul and Linda McCartney and performed by Paul McCartney & Wings. It was a number 3 hit single in the United States. It appears as a DLC song as Part of The Wings Track Pack In Guitar Hero World Tour.
It was recorded in Nashville, Tennessee, in 1974, while the band was staying at the farm of Curly Putman Jr., which accounts for the title.
The song continued McCartney and Wings' success after the Band on the Run album. It made number 16 on the United Kingdom charts.
A special full-colour photo was taken for this single's picture sleeve, which featured the members of Wings dressed in appropriate costumes from the song's lyrics (for example, Geoff Britton as a poker dealer and Denny Laine as the "Eskimo"). However, the photo only appeared on the picture sleeve of the single in Spain. In the UK and the US, Apple Records released the single without any picture sleeve, apparently as a cost-reduction move. In some other countries in Europe, a black-and-white band photo was used instead (see alternative cover).
This was the last Wings (or McCartney) release on Apple Records.
Community content is available under
CC-BY-SA
unless otherwise noted.