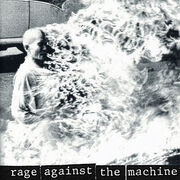 Killing in the Name was written and recorded by Rage Against The Machine. The song appears on their self-titled debut album released in 1992.
Walkthrough
[
]
While not terribly difficult, it can be a bit of a challenge to FC. There are streaks of 12 orange notes within 2 beats at the end of both Chorus 1b and Chorus 2b. Then, there's the Killswitch Solo. Part A is made up of sets of 3 single notes of the same fret. Going O to B to O to Y to B to Y to B to R to Y to R to Y to G. Part B is mostly slow trills between Y and B, and R and Y. Then there's the Noise Build. If anything will keep you from an FC, it's this part. These are 24th notes played between 82 and 87 BPM, and with chord changes every 3 to 4 beats. These go from GR to GY to GB to RY to RB to RO to YB to YO. Otherwise, this is not too hard.
Appears In
[
]
Song Stats
[
]
| | | | | |
| --- | --- | --- | --- | --- |
| Difficulty | Total Notes | Base Score | 4-Star | 5-Star |
| Easy | 587 | 30,570 | 61,140 | 85,596 |
| Medium | 777 | 53,878 | 107,756 | 150,859 |
| Hard | 1,074 | 78,128 | 156,256 | 218,759 |
| Expert | 1,319 | 100,128 | 200,256 | 280,359 |
Star Power Paths
[
]
See Killing in the Name/Star Power Paths
Censorship
[
]
Due to the fact that after the Guitar Solo the lyrics are "F**k you I won't do what you tell me" and at the end a "Motherf**ker" the lyrics had to be changed. In Guitar Hero II they are changed to "Now your under control I won't do what you tell me" and a "Under control" at the end. When it appears in Guitar Hero: Smash Hits they censor the "F**k you" and "Motherf**ker".
Trivia
[
]
Killing in the Name was the UK's Christmas No. 1 in 2009: In an attempt to stop the X Factor (UK version of Pop Idol) TV show from having the Christmas No.1 for a fifth year, RATM created the Rage against X Factor campaign to bring their song to the top spot. Their campaign received support from other famous musicians and was successful in Britain, but only reached No. 2 in Ireland having been beaten by the X Factor.
This was the first RATM single to reach Number 1 in the charts anywhere in the world, with their previous best being Bulls on Parade reaching No. 4 in the Norwegian charts.
This was also the first time that RATM had reached Number 1 in the UK charts, and it was with a song from their first album back in 1992!
Video
[
]