Love Gun
Performed By
Kiss
Year
2007
Appears in
Guitar Hero (iOS)

Genre
Glam Rock
Guitar Intensity
40%
Bass Intensity
40%
Drums Intensity
30%
Vocals Intensity
30%
Length
3 min 18 sec
Music
noicon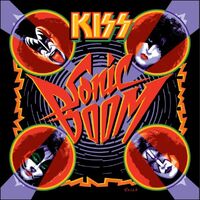 "Love Gun" is the title song by American hard rock band Kiss from their 1977 album of the same name. It has been performed an almost all tours since the album's release. It was rerecorded in 2007 by the current band members along with other KISS songs on the album Jigoku Retsuden.
Paul Stanley: "I wrote 'Love Gun' while on a plane to Japan. That was written in my head, the whole thing. And then when we landed, I had to play it to make sure it worked and it was all there. I think most of the time when you write songs that are great, you know it. I always thought 'Love Gun' was a great song, and today, I still think it is a tremendous song. It's probably the song I enjoy performing the most. To me, 'Love Gun' is quintessential KISS and probably one of the five essential signature songs. I played bass on the song. I was at a point where I liked going to Electric Lady recording studios and recording demos on my own and coming up with the parts and arrangements. With some songs it was clearly a matter of giving people parts to play because the vision I had was complete. A song was not only a song but it was an arrangement. So it was easier to go into the studio and say here's what the picture looked like. If I remember, no one was available to come and play bass, which was all the better. The bass part just made sense. We did the song 'Love Gun' on May 18th and on the 19th we did the vocals."
The Spinal Tap song "Big Bottom" makes a play on this with they lyrics, "My love gun's loaded and she's in my sights. Big game is waiting there inside her tighs."
Sections
[
]
Intro
Verse 1
Bridge 1
Chorus 1
Verse 2
Bridge 2
Chorus 2
Solo
Chorus 3
Chorus Out
Lyrics
[
]
I really love you, baby
I love what you've got
Let's get together, we can
Get hot
No more tomorrow, baby
Time is today
Girl, I can make you feel
Okay
No place for hidin', baby
No place to run
You pulled the trigger on my
Love gun, love gun
Love gun, love gun
You can't forget me, baby
Don't try to lie
You'll never leave me, mama
So don't try
I'll be a gambler baby
Lay down the bet
We get together, mama
You'll sweat
No place for hidin', baby
No place to run
You pulled the trigger on my
Love gun, love gun
Love gun, love gun
Love gun
Love gun
FREEFORM
Love gun, love gun
Love gun, love gun
Love gun, love gun
Love gun, love gun
Love gun
Love gun
Songwriters
[
]