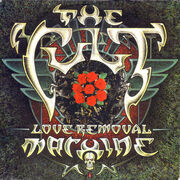 "Love Removal Machine"  is a song by The Cult. It was the first single released from the band's 1987 album "Electric", produced by Rick Rubin and featuring Billy Duffy (born William Henry Duffy, 12 May 1961, Hulme, Manchester, UK) on guitar. It appears in Guitar Hero World Tour as a playable track.
Appears In
[
]
Guitar Hero World Tour (Ozzfest)
Tiers (career)

Guitar - 16. Ozzfest (Germany)
Bass - 10. Will Heilm's Keep (England)
Drums - 7. Strutter's Farm (Kentucky)
Vocals - 8. House of Blues (Los Angeles)
Band - 8. Wilted Orchid (Sweden)
Walkthrough
[
]
Overall, it is one of the easiest songs in the game, save for the two fun and very challenging guitar solos, both of which explode out of nowhere and quickly prove to be extremely difficult, far more so than the rest of the song. However, if you are this far into World Tour, you should not have trouble passing them.  An FC will prove far more difficult than passing, however, especially on the outro solo. 
Video
[
]
Full Combo on Expert
This Guitar Hero World Tour Songs article is a stub. You can help WikiHero by expanding it.