Mario Greendale is a character exclusive to Guitar Hero: Smash Hits.
Mario Greendale is a former employee of Beenox. He died by electrocution from a high-voltage cable collision during a parachute jump. His presence in the game is a tribute to his life and work by his colleagues.
Compared to other characters in the series, Mario has a rather average, not to say simple, look: a green Beenox logo T-shirt, blue jeans and white sneakers. He has dark brown hair styled in a fauxhawk and sports a slight 5-o'clock shadow with a soul patch.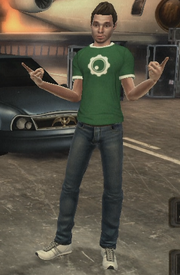 At the wheel of his custom motorcycle, Mario tours the world breaking many girls' hearts with his devilish good looks and graceful charm. Once a celebrated salsa dancer, he soon discovered the world of rock... With his vast talent and stylish originality, Mario effortlessly earned himself a spot the temple of Rock's Hall of Fame. You can usually find him at the local cafe enjoying a cold drink surrounded by his loyal fans.
Community content is available under
CC-BY-SA
unless otherwise noted.