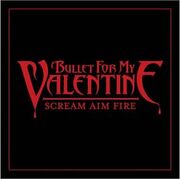 Scream Aim Fire is the first, title track from Bullet for My Valentine's 2008 album. The song features a very Slayer-like theme with harsh vocals, fast triple-riffs and one of the most fun Guitar Hero solos of any of the games. Since this song is in the last set before the credits (in the Guitarist's solo career) it is performed by:
Vocals: Ozzy Osbourne (Ozzy Osbourne/Black Sabbath)
Guitar: Player's selected character
Bass: Sting (The Police/Sting)
Drums: Travis Barker (Blink 182)
In all other careers, it's performed by whomever the player(s) choose.
Appears In
Edit
Tiers (career)

Guitar - 17. Times Square (New York City)
Drums - 17. Times Square (New York City)
Guitar walkthrough
Edit
There isn't really a particular part of this song that is difficult, but the whole thing can get you into trouble if you're not careful. The solo is pretty hard but not too bad compared to other songs in the tier, like Hot for Teacher or Trapped Under Ice.
100% FC expert guitar
The song constantly refers to war in its lyrics, particularly the the repeated lyrics "Over The Top!", which refers to World War I trench warfare, where commanding officers would shout "Over the top!" to their platoons and soldiers would have to climb out of the trench they were stationed in and run across the battlefield… directly into enemy machine gun and artillery fire.
Community content is available under
CC-BY-SA
unless otherwise noted.