Self Esteem
Performed By
The Offspring
Year
1994
Appears in
Guitar Hero: Warriors of Rock
Genre
Pop Punk
Guitar Intensity
40%
Bass Intensity
40%
Drums Intensity
50%
Vocals Intensity
50%
Length
4 min 20 sec
Music
noicon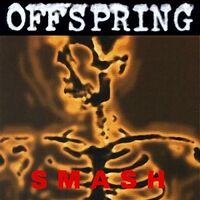 "Self Esteem" is a song by The Offspring which is about a guy who lets his girlfriend walk all over him. The reason is he has no self esteem.
The Offspring lead singer Dexter Holland wrote this. The song was inspired by one of his female friends.
According to The Offspring's Greatest Hits DVD, the famous intro on the song where the members sing along to the tune of the main riff, was first going to be played on acoustic guitar before the electric guitars come in.
Sections
[
]
LaLaLa Intro
Verse 1A
Verse 1B
Esteem Building 101
Chorus 1
Verse 2
Chorus 2
Suffering Bridge
Verse 3A
Verse 3B
Esteem Building 201
Chorus 3
Suffering Outro
Lyrics
[
]
La la la la la la la la la la
I wrote her off for the tenth time today
And practiced all the things I would say
But she came over, I lost my nerve
I took her back and made her dessert
And while I know I'm bein' used
That's okay, man, 'cause I like the abuse
While I know she's playin' with me
That's okay 'cause I got no self esteem
Oh way oh yeah
Yeah
Oh yeah yeah
Oh yeah
Yeah
Oh yeah
Yeah
We make plans to go out at night
I wait 'til two, then I turn out the light
This rejection's got me so low
If she keeps it up, I just might tell her so
Oh way oh yeah
Yeah
Oh yeah yeah
Oh yeah
Yeah
Oh yeah yeah
When she's sayin'
All that she wants, only me
Then I wonder why she sleeps with my friends
When she's sayin'
All that I'm like, a disease
Then I wonder how much more I can spend
Well, I guess
I should stick up for myself
But I really think it's better this way
The more you suffer
The more it shows you really care
Right? Yeah
FREEFORM
Now I'll relate
This little bit
It happens more than I'd like to admit
Late at night
She knocks on my door
She's drunk again and lookin' to score
Now I know
I should say no, but
It's kinda hard when she's ready to go
I may be dumb
But I'm not a dweeb
I'm just a sucker with no self esteem
Oh way oh yeah
Yeah
Oh yeah yeah
Oh yeah
Yeah
Oh yeah yeah
When's she's sayin'
All that she wants, only me
Then I wonder why she sleeps with my friends
When she's sayin'
All that I'm like, a disease
Then I wonder how much more I can spend
Well, I guess
I should stick up for myself
But I really think it's better this way
The more you suffer
The more it shows you really care
Right? Yeah
Songwriters
[
]
External links
[
]