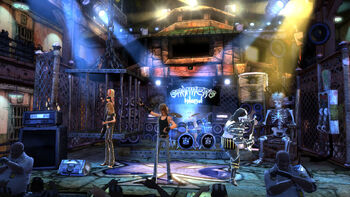 Shanker's Island is the 5th location that is available to play in the career modes of Guitar Hero III: Legends of Rock. It is a prison island, and might be a parody of Alcatraz.
The songs available in the Solo career are:
The songs available in the Co-Op career are:
Appearance
Edit
Hundreds of prisoners stand in a rectangular pit fenced off and guarded by prison officers surrounded by two stories of cells on either side. Some prisoners can occasionally be seen cheering on the upper stories along with officers. Behind the stage, there is a sign that, if turned upside down, reads 666. Also if your performance level is in the green, a cage lowers holding a dancing woman inside it. Every so often, a strobe light will flash on certain notes.
Encore Cutscene
Edit
When you play the encore "Welcome to the Jungle" with Slash, when they announce the lockdown, a cutscene plays where smoke grenades are thrown from the second floor. The Prisoners still keep cheering. Oddly, columns of smoke rise from where the smoke grenades land, BEFORE they even land.
This is the only venue to have the same tier in both careers.
The name of the venue is possibly a reference to Rudolf Schenker, guitarist of the Scorpions, whose song "Rock You Like a Hurricane" appears in this tier, and his brother Michael, former Scorpions guitarist and Michael Schenker Group leader. It actually comes from the verb to shank, i.e. stab someone with an improvised sharp object, like a broken bottleneck, as may happen in prison riots.
In the Co-Op Career, the tier is called "Jailhouse Rock," which is a reference to the song of the same name by Elvis Presley
Community content is available under
CC-BY-SA
unless otherwise noted.