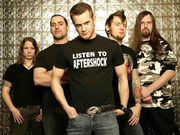 Six is a song by the band All That Remains. People on ScoreHero generally agree that it is the second hardest song in the game to pass (behind Jordan) and the hardest to 5 star. The song must be bought from the game's store.
The song has been parodied and misinterpreted for fun on various sites, such as YouTube, GameSpot, and random forums.
Appears In
Edit
Walkthrough
Edit
There is some very fast strumming in this song. There is a bit of a break in the action about two minutes into the song. Don't get comfortable though, because immediately after is the hardest part of the song. After that, it's back to the fast strumming on which the song ends.
Six, along with The Light That Blinds, are songs that are impossible to beat using the Dualshock controller.