Taylor Swift (full name Taylor Alison Swift, born December 13, 1989 in Wyomissing, PA) is a country/pop singer who makes an appearance in Band Hero.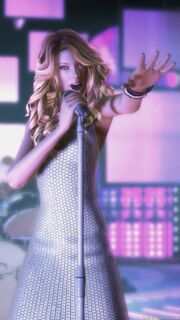 According to Nielsen SoundScan, Swift was the biggest selling artist of 2008 in America with combined sales of more than four million albums. Swift's Fearless and her self-titled album finished 2008 at number three and number six respectively, with sales of 2.1 and 1.5 million. She was the first artist in the history of Nielsen SoundScan to have two different albums in the Top 10 on the year end album chart. Fearless has topped the Billboard 200 in 11 non-consecutive weeks. No album has spent more time at number one since 1999-2000. It also was the first album by a female artist in country music history to log eight weeks at #1 on The Billboard 200. In mid-January 2009, Swift became the first country artist to top the 2 million mark in paid downloads with three different songs. As of the week ending February 8, 2009, Swift's single "Love Story" became the country song with most paid downloads in history and the first country song to top the Mainstream Top 40 chart. Swift then subsequently went onto replicate the feat, reaching #1 again on the Mainstream Top 40 in September 2009 with "You Belong With Me", making it just the second country song in the chart's history to reach the top. According to the 2009 issue of Forbes, Swift is ranked as the 69th most powerful celebrity with over $18 million in earnings this year.
If the band-centric versions of the GH series are not to be counted, Swift's inclusion is marked as the youngest musician to make a guest appearance in the game, beating Paramore vocalist Hayley Williams to the honor by just short of one year. However, if you consider by age when they appear in the game, Taylor took the honor by only days or months.  However, taking every single version into consideration, she is still the second youngest, only behind Van Halen bassist Wolfgang.
Songs
[
]