Trogdor --
by Strong Bad
Tier: Bonus

---
Easy 4-star: 23,388
Easy 5-star: 32,744

---
Medium 4-star: 36,988
Medium 5-star: 51,784

---
Hard 4-star: 54,472
Hard 5-star: 76,261

---
Expert 4-star: 78,896
Expert 5-star: 110,445
Total notes on Easy: 194
Total notes on Medium: 330
Total notes on Hard: 365
Total notes on Expert: 433

Trogdor is one of many Bonus Songs on Guitar Hero II. While the verses, choruses, and the first part of the solo are relatively easy, the song is almost impossible to FC due to a string of incredibly fast notes near the end. It is the only song on NTSC versions of the game that is impossible to FC due to the lower strum limit. This is the first song from the Homestar Runner internet cartoon series to appear in the Guitar Hero series (the other being Because It's Midnite). The song is based on a dragon called Trogdor who "burninates" villages and peasants.
Walkthrough
Edit
The verses and chorus consist mainly of basic chord changes, with one of the hardest going from a GY chord to a BO. The only true difficult part of the song is the solo. The beginning is mostly easy Hammer-On sequences, then four sets of ascending scales. Next comes very hard variations on snake-like notes. There isn't a real rhythm to them, so do your best to play them like normal snakes. Then comes the nearly-impossible, insanely fast strumming. If you can strum fast enough to keep up, then try to strum as evenly as possible. The speed is very close to the engine's strum limit, so strumming even slightly faster than you need to may result in the game registering an overstrum or miss. Then comes two sustains with star power, so be sure to hit them! It then basically repeats the intro, and Strong Bad screams for the last three measures.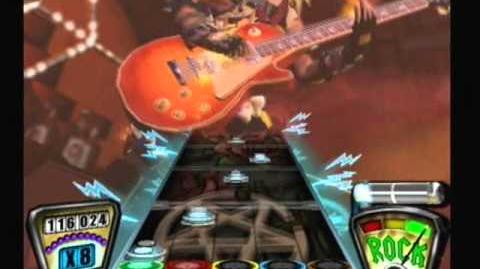 Community content is available under
CC-BY-SA
unless otherwise noted.