Activision has formally announced a brand-new iteration of the Guitar Hero franchise. After a five year hiatus, the series will return with Guitar Hero Live. The new music game will be developed by FreeStyleGames and published by Activision. Guitar Hero Live will be released for PlayStation 3, PlayStation 4, Xbox 360, Xbox One, Nintendo Wii U, as well as select mobile devices.
Fans can expect a brand new Guitar Controller. Unlike previous version of the controller-instrument, this time around the guitar has been redesigned to enhance the gameplay experience. The new, modern controller features two rows of three buttons, one row of white and one row of black, that better reflect the feel of playing a real guitar. Beginners and Experts alike will be challenged with new chord shapes and finger combinations.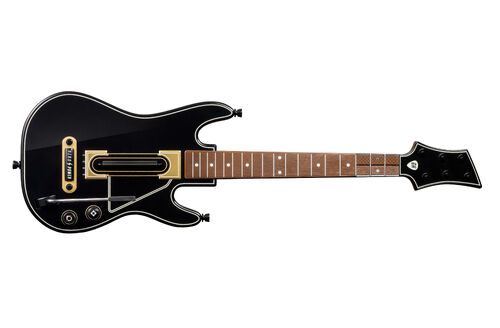 The world's first playable music video network called GHTV will also be included with the game. This 24-hour music video network allows players to jump in and play along with various official music videos. This game mode adds a new dimension to the Guitar Hero franchise, allowing players to compete with their friends and rockers across the world for the highest score. The network is a constantly updating platform, that will serve as an ever-growing source of music discovery.
Players can expect an expansive soundtrack across a different genres. Confirmed bands with tracks in the game are The Black Keys, Fall Out Boy, My Chemical Romance, Gary Clark Jr, Green Day, Ed Sheeran, The War on Drugs, The Killers, Skrillex, The Rolling Stones, The Lumineers, Piece the Viel, and Blitz Kids. More bands will be announced in the coming months.
Check out the launch trailer and selection of screenshots. How do you feel about the games new features? Are you excited for the return of Guitar Hero? Let us know in the comments!
Screenshots
Community content is available under
CC-BY-SA
unless otherwise noted.