Welcome to the Jungle
By
[[Guns N' Roses]]
Year
1987
Appears in
Guitar Hero III: Legends of Rock, Guitar Hero: Battle, Guitar Hero Legends
Tier
Single Player: 5. Bighouse Blues
Coop: 3. Overnight Success. Guitar Hero: Battle 9th tier. Guitar Hero Legends N/A
★★★★ (Expert)
135,308
★★★★★ (Expert)
189,432
[[Category:Songs by
Guns N' Roses
]]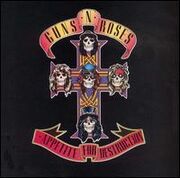 Welcome to the Jungle was written and recorded by Guns N' Roses. The song appears on the album Appetite for Destruction, released in 1987.
Walkthrough
Edit
The first two verses of the song are really the easy part. All you have to do is to handle the various single and double notes. The first solo is a bunch of single, double, and triple notes bunched together. This part may be easier for some (the lucky few) than others.
The third verse ("Welcome to the Jungle, it gets worse here every day") is a little harder than the previous verses because there is a stream of Green-Red notes leading to a long Green-Red double note about four times in that part. Be careful not to overstrum and break your multiplier.
Take your time on the second and third (major) solos after the third verse. They have a lot of random single and double notes that will make your hand slide up and down the neck of the guitar.
Welcome to the Jungle has the distinction of having a riff that's more difficult than the solo. The hammer ons are buried in a sea of strum notes, so make certain to strum and hammer on the correct notes. Be careful not to over-strum on the "Jungle Breakdown" section.
The final part is like the first two verses. All you have to do is handle the single and double notes until the final long triple notes at the end. Handle those, and you're done!
Appears In
Edit
This song is played as the encore after the player battles Slash.
Song Stats
Edit
| | | | | |
| --- | --- | --- | --- | --- |
| Difficulty | Total Notes | Base Score | 4-Star | 5-Star |
| Easy | 425 | 28,465 | 56,930 | 79,702 |
| Medium | 587 | 37,658 | 75,316 | 105,443 |
| Hard | 748 | 48,526 | 97,052 | 135,873 |
| Expert | 937 | 67,654 | 135,308 | 189,432 |
Star Power Paths
Edit
See Welcome to the Jungle/Star Power Paths
100% on Expert
Community content is available under
CC-BY-SA
unless otherwise noted.